SWANS F2.3 State of the Art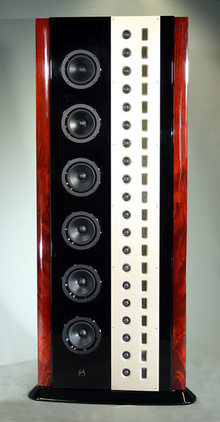 Think Big !
We only call products "State of the Art" if they deserve it! Swans F2.3 is our most highly revealing reference loudspeaker statement, forerunner in our Flagship Series. With its large array of extremely fast isodynamic ribbon tweeters and soft dome upper midrange drivers and complimentary components, descriptions such as state of the art, high tech and high-end are indeed most appropriate. With the incredible amount of 64 (!) tweeter-midrange chassis, 6 high power handling midrange drivers in combination with 15" subwoofers per unit, Swans F2.3 speakers are definitely in a class of their own. They are certainly unique and unrivaled the world over. Their performance best described with just one word is breathtaking!
With a height of 2 meters (ca. 6' 6"), and weight of 150 kg (ca. 330 lbs.), you wouldn't place them in a too small one-room efficiency flat. This was not what we had in mind during development.
The F2.3 were meant and produced to play in an adequate area. Large living rooms, dedicated music listening chambers, professional recording studios and high-end cinemas are some of the locations they will suit perfectly well. Despite their dimensions the appearance of F2.3 still is quite noble. A high quality piano lacquer housing combined with 6mm anodized aluminum trim compose into an optical state of the art. Some technological aspects: the dipole sound panels are constructed using the "Line-Array-Principle," therefore most capable of filling large areas with sound. Their characteristics allow an extremely wide audio window, sound dispersion, without the relatively small "sweet spot" you find in most conventional constructions. Through the use of many small drivers extreme speed, dynamics and precision is delivered while playing. Ribbon tweeters present in the upper frequency range fundamental advantages compared to conventional piston drivers. In addition to the unsurpassed speed, high resolution and lack of distortion, due to the minute amount of moving mass, the famous Swans planar technology allows a balanced sound stage in an extremely wide listening area. Unlike the famous Swans F2, in the new F2.3 silk-dome mid range units are used with 28mm diameter to guarantee a seamless transition between the ribbon tweeters and midrange cone drivers. Because typical mid-range cone drivers tend to respond as a delayed mass in addition to their increased interior-/ exterior oscillation, they can not be easily integrated with the fast-responding foil-film membrane of the ribbon tweeter. As a consequence we complimented the arrangement with 6 Swans PD-6 drivers because of their excellent ability to partially cover some lower frequency range as well. They are also capable of reproducing precise and uncompressed high sound pressure levels and have almost unlimited dynamic reserve. With a total number of 140 (!) chassis, producing an almost frightening amount of momentum and awe-inspiring realistic ambiance is genuinely possible in adequate-sized listening rooms. Seriously, those unfortunate souls with a poor heart condition and not prone to taking shocking surprises in stride are well-advised to take caution prior to auditioning these!
Swans F2.3 is the "Formula 1" (R) contingent to be reckoned with among loudspeakers.
Swans 2.2, Best of CES High-End Audio Finalists

Swans F2.3 technology, specifications and cabinet options:
3-Way/4th order arrangement + 38 cm bass subwoofer
Di-pole line-array, 24 variable rear-firing chassis
Frequency response: 28Hz-35kHz + /-3dB
Efficiency (2.83V / m): 88dB
Nominal impedance: 8 ohms
Tweeter: 32x Swans RT1.3 isodynamic ribbon
High-Midrange: 32x TN Swans 28.1, 28mm silk-dome
Bass: 6x Swans PD6 HQ-cone
Subwoofer: Swans PD15 longthrow subwoofer-HQ
Recommended amplifier power: 25-800W
Dimensions: 1940 x 463 x 864mm
Subwoofer: 710 x 635 x 657mm
Weight: Panel & Sub 164 kg combined
Weight: Speaker Panel 116 kg
Weight: Subwoofer 48 kg
Cabinet options: piano lacquer / real wood veneer
SWANS F2.3 Center Speaker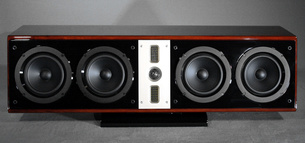 3-Way/4th order bass reflex system
Frequency response: 38Hz-35kHz + /-3dB
Efficiency (2.83V / m): 90dB
Nominal impedance: 8 ohms
Tweeter: 2x Swans RT1.3 isodynamic ribbon
High-Midrange: 1x Swans T28.1 28mm silk-dome
Mid-Bass: 4x Swans PD6 HQ-Cone 165mm
Dimensions: 1023 x 358 x 308mm
Weight: 30 kg
Cabinet options: piano lacquer / real wood veneer, or on pre-order black piano lacquer
SWANS F2.3 Dipole-Rear Speaker

3-way / 2nd order infinite baffle (sealed) system
Frequency response: 55Hz-35kHz + /-3dB
Efficiency (2.83V / m): 88dB
Nominal impedance: 8 ohms
Tweeter: 4 x Swans RT1.3 isodynamic ribbon
High-Midrange: 2 x Swans T28.1, 28mm silk-dome
Mid-Bass: 2 x Swans PD6 HQ-Cone 165mm
Recommended amplifier power: 20-180W
Dimensions: 615 x 206 x 256mm
Weight: 13.6 kg
Cabinet options: piano lacquer / real wood veneer
State of the Art Homecinema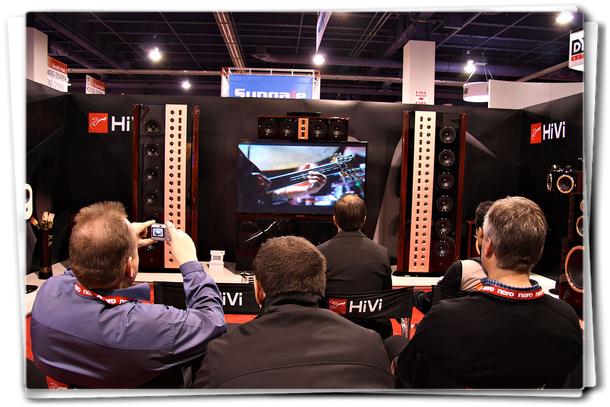 The 2.3 State of the Art Home Cinema System, with its subtle detailed presentation describes a dynamic and unique experience. It's like those moments in life you will never forget. The performance offered by Swans F 2.3 is among the best in the world and defines the limits of what is possible today.
Picture of the CES in Las Vegas.
Swans, Heimkino Lautsprecher