SWANS M1 Monitor

Hearing ...

Hearing...
the Swans M1 monitors, please be prepared for a BIG surprise!
The word is out about these, that if quality electronics are provided they are completely able to fade into the background, become thoroughly invisible. Audition the Swans M1 at your local dealer, who will likely connect them to top of the line amps, sources and speaker cables - each of which surprisingly being sometimes priced well above that of the Swans M1 speakers itself.
You will soon come to understand that the Swans M1 appear to have no limits!
Especially in combination with premium Class A- or tube-amplifiers, the 'better', the better these jewels unfold their true skills. The experience will be far from ordinary hi-fi trivia. These transducers produce...
Music: Pure - Clear - Holographic
The RT1 ribbon tweeter lets music flow into the room, incredibly detailed, fast and accurate, without ever being annoying or brash. The F5 mixed-fiber Kevlar midrange bass, with its full-range characteristics never has problems to keep the pace. Through the amazing dynamic bass output, the stage is produced and presented in an astonishing holographic way. Even at higher levels no compression effects appear at all. Acoustic errors are unknown to these luxurious small speakers. The noble genuine wood cabinet supplemented by a an unique leather-coved baffle underlines the high standards of the Swans M1. It is no surprise the M1 are the favorite child of our developer Dennis Colin.
"The tweeter sounds state-of-the-art to me, which is no surprise considering its well-designed ribbon construction. What most surprised me, though, is the top-to-bottom neutrality, literally free of audible coloration, even compared to a live voice! I guess that speaks well for tonal accuracy. Regarding imaging, the M1 are uncannily solid - no crossover audibility, let alone smearing', even off vertical-axis (just a very natural HF roll off). Horizontal dispersion is very wide, maintaining tonal neutrality and imaging. This, I believe, is responsible for the unusually wide, deep, and open spatial reproduction. The transient response sounds free of any percussive delay-smearing effect. Transparency and detail resolution sound extremely good, possibly as good as an electrostatic. The bass quality is so natural and detailed that I hardly missed the below-55Hz stuff. (But since I love deep bass, I would add a good subwoofer.) With the M1, I heard the things a live acoustic string bass produces: both the extended series of harmonics and the vibrating string "pulsiness;" the latter requires excellent phase coherence as well as a smooth frequency response. With 86dB (1W/m) sensitivity and 50W handling, they won't safely sustain above 103db SPL. But to find criticism of the M1' musical realism, you'll need one of those "hi-end" magazine reviewers who can "hear" the benefits of plutonium-enriched superconducting binding posts (those on the M1 are close)."
SWANS Speaker Designer, Dennis Colin
Ribbon Tweeter RT1C Detail



Swans M1 Monitor Technology:


2-way/ 4th order bass reflex system
Frequency response: 53Hz-40kHz + /-3dB
Efficiency (2.83V / m): 86dB
Nominal Impedance: 6 ohms
Tweeter: Swans RT1 isodynamic ribbon
Low-midrange: Swans F5 High End mid/bass woofer
Recommended amplifier power: 10 - 100W
Dimensions: 210 x 276 x 330 mm
Weight: 8.6 kg (EU version with bi-wiring terminals)
Cabinet finish: real wood / genuine leather
SWANS M1B best of !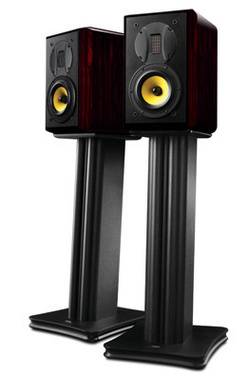 The 'B' in M1B could stand for 'best of' the M1 series...
the upgraded version of our legendary M1 model
SWANS M1B contains our latest engineering developments. The ribbon tweeter with enlarged foil membrane and better magnet flux geometry now has wider dispersion characteristics and lower harmonic distortion. The crossover had to be complimented for the midrange-bass driver too which now sports an even lighter yet stiffer composite cone material, better voice coil and machined cast aluminum basket.
The solid wood ebony-piano lacquered cabinet is statement of today's highest possible manufacturing techniques but what this simply boils down to is that these speakers are real eye catchers!
In comparing the listening experience to the M1, the M1B plays more softly yet with more dynamics and vastly larger stage presentation and even greater realistic overtone reproduction.
Already reviewers are reporting that, "this is the best speaker that I have yet heard!"

SWANS M1B HighEnd-Monitor technology, specifications and cabinet:
2-Way/4th order bass reflex system
Frequency range: 48Hz-40kHz +/-3dB
Efficiency ( 2.83V/m ): 86dB
Nominal impedance: 8 Ohm
Crossover frequency: kHz
Tweeter: Swans RT1.3 isodynamic ribbon
Midrange-bass: Swans F5MK HighEnd mid-woofer
Suggested amplifier power: 10-100W
Dimensions: 210x276x330mm (W/D/H)
Weight: 8.8Kg (EU-version has bi-wiring terminals)
Cabinet: solid wood piano lacquered, vinyl baffle detail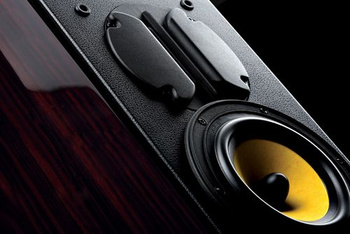 At the Hi-fi and Home-Cinema "Home Cinema High Fidelity" event in Hanover (Germany) the M1 speakers combined with audio components from "Mastersound", "German Highend" and "RTFS" received the "Home Cinema High Fidelity Award" (Best of Show) for best 2-channel sound.nd.


SWANS M1-GH State of the Art Monitor

Saving the Best for last...
For the Central European market starting in December 2007 there is a state of the art version of the M1.
SWANS M1-GH State of the Art Monitor
The following customizations are already included in our European Swans M1 special edition:
Selected, 'Matched' Chassis
German Highend's solid-core pure silver cable (internal wiring)

Eichmann Bullet speaker terminals, in Bi-wiring
Mundorf-crossovers components (M-Cap Supreme capacitors, low-loss chokes, low level induction MOX resistors)
Please note:
The M1-GH is produced special order only, therefore expect some delivery lead time